FOR ADDED PLEASURE
First off, I'm thrilled to announce that myself and Joe Nice will be making it a 2-night engagement next weekend at Rothko (I've always wanted to have a 2-night engagement). The night after Dub War (Saturday, November 19), we'll be holding down the first ever Grime/Dubstep Room at Direct Drive, supporting none other than the mighty DJ ZINC headlining. Gotta remember to pack my Bingo records!
Details and advance tix at
directdrive.net
.
And I've also gotta spread the word about a quality event happening this Friday and Saturday (November 11-12) at Southpaw in Park Slope, Brooklyn. None other than the Eski Boy, Roll Deep don Wiley, on the bill longside a diverse roster of underground hip hop and worldwide talent...
BROOKLYN SHUFFLE FESTIVAL TO TAKE OVER SOUTHPAW NOV 11+ 12
2 NIGHTS OF ECLECTIC PERFORMANCES FROM GENRE-MASHING ARTISTS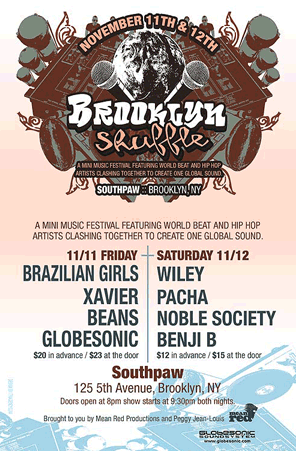 LINEUP: Friday Nov. 11th
* Beans (Warp Records) originally from Anti-Pop Consortium, he has broken genres like no other hip hop MC
* Xavier (A Touch of Class) The newest addition to A Touch of Class©ˆs buzzworthy label bringing infectious dance beats with a voice from the Gods
* Brazilian Girls (Verve) - a New York band that has established a global name for themselves with their unique mix of funk, electronica, myriad influences that equal a seductive sound
* Globesonic Worldbeat DJ Collective
Saturday Nov. 12th
* Pacha Winners of 2005 Latin Alternative Music Award
* Noble Society Filling the void for live Reggae in Brooklyn, this group represents Bedstuy in sound on stage
* Wiley Godfather of Grime, member of Roll Deep
* Benji B (BBC 1XTRA) - London©ˆs DJ champion of soul and underground beats
Friday, November 11, 2005
2 Day Event, 8:00 PM - 4:00 AM, 21+
cover: $20.00 | In Advance $23 at the door for Nov 11
Nov. 12 $12 in advance $15 at the door
Southpaw
125 Fifth Avenue, Brooklyn